In Bengal boy's golden lift, a triumph over adversity
Featuring in his first major competition, Achinta Sheuli heaved 313kg to grab the gold beating Malaysia's Erry Hidayat Muhammad and Canada's Shad Darsigny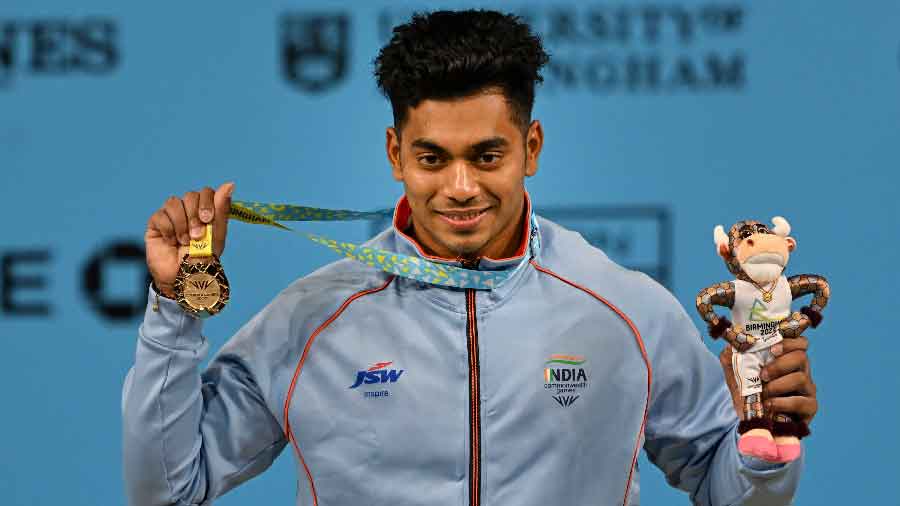 Achinta Sheuli after winning the gold medal in the men's 73kg weightlifting category at the Birmingham Commonwealth Games on Sunday.:
PTI
Angshuman Roy | TT | Calcutta | 02.08.22 :
Standing on the podium with the yellow metal shining brightly from his neck, young Achinta Sheuli's mind might have raced back to the days in Howrah when his mother Purnima and brother Alok were struggling to make ends meet. Indian sport is replete with stories of sportspersons rising above difficulties through hard work, making a name for themselves.
On Sunday evening at the Commonwealth Games, the 21-year-old Achinta added one more story to the chapter. Featuring in his first major competition, Sheuli heaved 313kg (143kg+170kg) to grab the gold beating Malaysia's Erry Hidayat Muhammad (303; 138kg+165kg) and Canada's Shad Darsigny (298; 135+163kg).
Achinta, a junior world championship silver medallist, executed three clean lifts — 137kg, 140kg and 143kg — in the snatch section. His 143kg effort helped him smash the Games record and improve his personal best. Heading into the clean and jerk with a five-kilogram advantage, the lifter started with a 166kg lift. Sheuli then faltered in his 170kg attempt only to heave the weight in the third attempt and create a new Games record in total lift (313kg). The Malaysian failed to lift 176kg in his last two attempts and the gold went to the Bengal boy.
"A great feeling. I am happy to bring the gold. Now the target is the Asian Games next year and then the Paris Olympic Games. I have to keep working hard," Achinta told The Telegraph from Birmingham.
Hailing from Howrah's Deulpur, a place with its own sporting history as it was here that the first polo balls were made in India, Achinta's is a story of fighting against odds, a story of perseverance. He lost his father (Jagat) at an early age but that didn't stop him from chasing his dream. His elder brother Alok was a lifter and the young Achinta decided to follow suit.
"We saw extreme poverty. It was so bad that we had to borrow money to perform my father's last rites," Alok said minutes after his brother won gold. Jagat Sheuli was just 38 when he passed away and Alok now works in the state fire and emergency department as a daily wage earner. Achinta found solace in the coaching of Ashtom Das, whose coaching centre has produced a clutch of lifters who represented Bengal and India. "He has been with me from 2011. Extremely talented and, as I said, the gold medal didn't surprise us," Das said.
"We face financial difficulty, the equipment are outdated because there is no monetary support. Even now I have to think twice to upgrade my phone because that may cost me Rs 5000-6000. One thing pains me. I haven't got the recognition I deserved," Das added with a tinge of sadness. "Today I am getting all the media attention and I am happy about it. But will it guarantee a job? I do not know."
It was Das who took seven weightlifters to the Army Sports Institute for trials eight years ago. This was after Achinta showed promise by winning the bronze in sub-junior nationals. "My centre doesn't have good infrastructure. In the trials, they could not do well in the bench press and other things. But in weightlifting they were very good. Achinta was impressive throughout and got selected. That was the turning point in his career," Das recalled. Das said Achinta is the best to come out of his dilapidated weightlifting cradle. "Undoubtedly. The best thing about Achinta is he doesn't look flustered even when the chips are down.
"Hard work pays off. The last three years he slogged and we knew Achinta would win gold," elder brother Alok added.
Alok rued that facilities in the state need drastic improvement to produce champion sportspersons. "Not much help came forward when Achinta was not a name." During the senior nationals held in Calcutta in February 2020, Achinta had also spoken about the lack of support from the state government and the West Bengal State Weightlifting Association. Achinta said if he gets a government job it would be fine but added that the "Army would need to give me the green light. I would not have been able to continue if Army help was not there at the beginning of my career". He is employed as a havildar in the Army.
He hasn't come to his Deulpur house in the last two-and-a-half years and now is looking forward to a visit. "Most of the time I am in Patiala (NIS). Hopefully, I will be able to pay a short visit once I return," Achinta said. "Even we are looking forward to Achinta coming home," Alok said.
The Sheulis will soon move to a new residence from their kuchcha house.