Arpita Mukherjee in tears outside ESI hospital in Joka : So far ED has seized Rs. 49.8 crore, gold and diamond jewellery
In the past seven days, ED has seized Rs. 49.8 crore, gold and diamond jewellery from two flats belonging to the close aid of Partha Chatterjee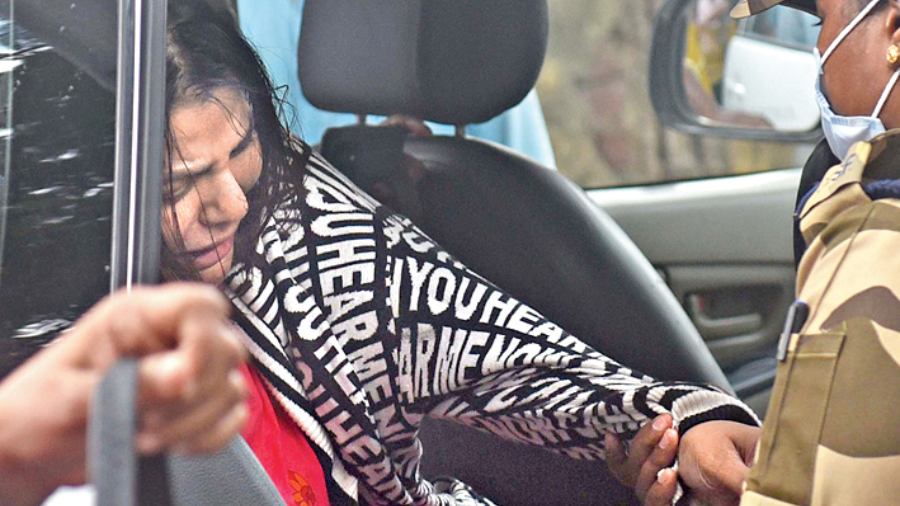 KINSUK BASU | TT | 30.07.22: Arpita Mukherjee, described by the Enforcement Directorate (ED) as a close aide of former minister and suspended Trinamul leader Partha Chatterjee, broke down in tears outside ESI hospital, Joka, on Friday afternoon where she was taken for a health check-up.
Women CRPF personnel lifted her into a wheelchair and took her into the hospital's emergency ward.
As the car ferrying Mukherjee came to a halt outside the hospital's main entrance, she broke drown in the rear seat. ED officials tried to calm her down but crying, she fell off the seat. The CRPF officers came to help her.
Chatterjee, former education minister, is in ED custody with Mukherjee since July 23 in connection with alleged irregularities in school recruitments.
The ED has seized ₹49.8 crore, gold and diamond jewellery from two flats belonging to Mukherjee in the past seven days.
Outside the hospital, Mukherjee was lifted and placed in a wheelchair as she continued to cry. Members of the hospital's security staff then took over from the CRPF and wheeled her into the hospital with ED officials guarding her.
Mukherjee's breakdown in public took place around 12.50pm, nearly an hour after two vehicles carrying Chatterjee and her left the ED's office at Salt Lake's CGO Complex.
"Mukherjee has kept her composure for most of the time in custody. Prior to this, she had tears in her eyes only once, on Wednesday night, during interrogation. Mukherjee had told us she was missing her mother and grandfather," said a senior ED official.
On Friday, Mukherjee was seeing mumbling something while being wheeled into the hospital. ED officials in her close proximity said she was barely audible and they could not make out what she was saying. Around two hours later, when she was taken out of the hospital's rear gate — Chatterjee's left through the front gate — Mukherjee was still sobbing, ED officials said.
Back in her lock-up, Mukherjee kept to herself for quite some time before settling down for her lunch, said the officials. By evening, when she faced interrogators, she had regained her composure, they said.
Senior ED officials said they were trying to trace four of Mukherjee's cars, including an Audi, a Mercedes, a Honda City and a Honda CRV. The cars were missing from the garage of her south Kolkata apartment, officials said. Interrogators said they believe the cars were used to carry cash.
"We are trying to find out who funded Mukherjee's trips abroad, her cars and apartments. She has not revealed much about this so far," the official said.
Sources said Mukherjee told ED officials that she was introduced to Chatterjee in 2017, soon after his wife's demise. Over the next few years, she grew close to the minister but never interfered with his political activities, she told interrogators.
A few years back, Mukherjee featured as the face of a Naktala Durga Puja, which Chatterjee allegedly patronised. Mukherjee told interrogators that she did not receive any money from the organisers for featuring in the puja banners, a claim that officials said they were checking.